Calvary Chapel Alpharetta Missions Outreach
Mark 16:15 He said to them, "Go into all the world and preach the good news to
all creation."

At Calvary Chapel Alpharetta we are going to the world through devoted and
effective missionaries that we help support. Currently this involves Foreign
Missions reaching out to Mexico, India and England.
---
---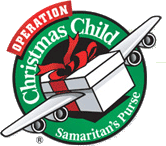 Calvary Chapel also encourages support of Operation Christmas Child. This is an exciting ministry to children around the world through Samaritan's Purse.